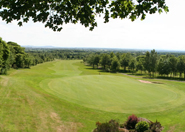 BLUNDELLS HILL GOLF CLUB
Situated on the outskirts of Liverpool, just off the M62, this parkland course, with established fairways and greens offers a challenge to golfers at all levels. The golf course and clubhouse have magnificent views across the open countryside.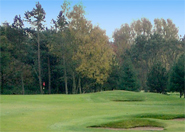 BROMBOROUGH GOLF CLUB
Located in The Wirral, this well-established mature parkland course has been the setting for some prestigious national amateur and professional championships in the last 10 years and is generally renowned for its fine fairways and fantastic greens.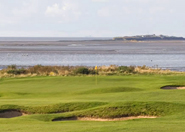 CALDY GOLF CLUB
Designed by James Braid in 1930, Caldy provides a unique challenge of parkland and links golf. Set in The Wirral, the course provides a stern challenge, with stunning views across North Wales, Caldy has been used as a qualifier for the Mens European Open and Ladies British Open.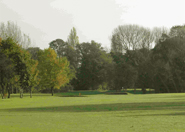 CHILDWALL GOLF CLUB
Childwall is only 20 mins from Liverpool. Another James Braid designed course, it is a mature, challenging parkland course and has been used for a number of high ranking national tournaments. The clubhouse offers excellent food in a friendly, relaxing atmosphere.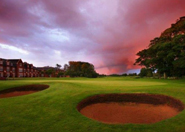 FORMBY HALL GOLF RESORT & SPA
An excellent parkland course, it offers an 18-hole championship course, making it ideal for golfers of all abilities. Renowned for its spectacular fairways and trimmed greens; with pot bunkers, woodland & water hazards, it delivers a very challenging round of golf! The impressive clubhouse has magnificent views overlooking the golf course, and exquisite food.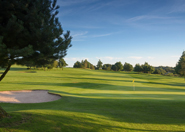 FRODSHAM GOLF CLUB
Located 30 mins from Liverpool, Frodsham Golf Club is steeped in history, dating back to the 1800s. Re-designed around 25 years ago, the golf course is noted for its wide variety of feature holes. Facilities include a complete practice area and the clubhouse offers impressive views overlooking the golf course and excellent food.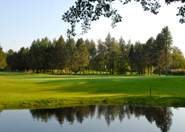 GRANGE PARK GOLF CLUB
Grange Park Golf Club is located near St Helens, and is noted for its well manicured fairways and excellent greens. The course was used for the Lancashire Amateur Championship in 2014. The clubhouse has a conservatory spike bar to relax after a round of golf and excellent food is served in the main lounge.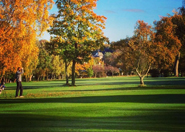 ALLERTON MANOR GOLF CLUB
One of the most improved courses in the Merseyside area it is situated in the leafy suburb of Allerton, the course has been upgraded creating a challenging parkland course. The clubhouse facilities have had major investment, which includes The Old Stables restaurant and Fletcher's Sports Bar, where you can relax on the outside terrace when you have finished your round of golf.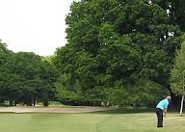 HUYTON & PRESCOT GOLF CLUB
Huyton & Prescot is easily accessible as it is located only 15 mins from Liverpool City Centre. This mature tree lined parkland course, offers a challenge to all golfers, featuring excellent fairways and greens. The recently refurbished bar area of the clubhouse offers a selection of excellent food and drinks.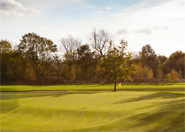 LEE PARK GOLF CLUB
Located 20 minutes from Liverpool City Centre just off the M62. This parkland course offers an extremely good challenge to golfers of all abilities, with an emphasis on a good short game. Excellent practice facilities are available and the clubhouse, overlooking the course provides a relaxing atmosphere to enjoy a post match drink.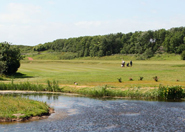 LEASOWE PARK GOLF CLUB
Situated on the Wirral Peninsula, Leasowe Golf Club offers a true links challenge. The course has views across Liverpool Bay and the mountains of Wales make this course a must play for links golf fans. The clubhouse provides excellent bar and catering facilities.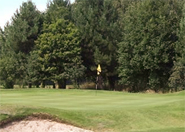 ORMSKIRK GOLF CLUB
Situated around 30 mins from Liverpool, Ormskirk Golf Club is a mature and very scenic tree lined, parkland course, with generous fairways, providing a fair test to golfers of all levels and prides itself on its excellent greens. After your round of golf, you can relax in the Spike Bar or enjoy the excellent catering facilities on offer.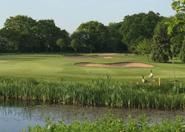 PRENTON GOLF CLUB
Located across the River Mersey from Liverpool, near Birkenhead, Prenton Golf Club is a mature parkland course with a mix of tree lined fairways, and natural hazards, calling for accuracy from the tee. After your game of golf, you can use the clubhouse facilities for a meal and a drink. If you still feel sporty, you are welcome to have a game of snooker.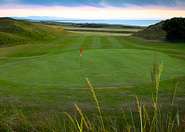 WALLASEY GOLF CLUB
Wallasey Golf Club is a typical links golf course, in the Wirral Peninsula, influenced by James Braid. Previously used as an Open Qualifier, you will understand that Wallasey will provide a stern test for all golfers. The recently refurbished clubhouse will not disappoint you for food, drinks and hospitality afforded to you after your game of golf.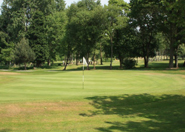 WEST DERBY GOLF CLUB
West Derby Golf Club is located in a suburb of Liverpool only 15 mins from city centre. The course is a mature tree lined parkland with an excellent mix of challenging holes, where accuracy is paramount. The clubhouse is very welcoming and offers an excellent food menu with a large patio overlooking the 18th to enjoy a relaxing drink.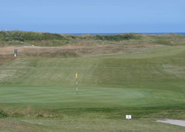 WEST LANCASHIRE GOLF CLUB
One of the oldest, established clubs in the area, West Lancashire Golf Club is situated only 15 mins north of Liverpool and has hosted final qualifiers for the Open, when played at Royal Liverpool and Royal Birkdale. A natural links course provides a challenge to all golfers and facilities in the modern clubhouse offers excellent food and drinks.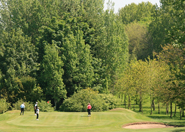 WOOLTON GOLF CLUB
Woolton Golf Club is situated south of Liverpool, near to Liverpool John Lennon Airport. The course is parkland, and although only par 69, it is challenging to golfers of all standards and the emphasis on club selection and accuracy is paramount. Catering in the excellent clubhouse is of a very high standard.
MERSEYSIDE COURSES
Golf Courses within the Merseyside area that are available to play and within easy reach of Liverpool City Centre: The Three "Royals" - Royal Liverpool Golf Club; Royal Birkdale Golf Club; Royal Lytham Golf Club. Hillside Golf Club, Southport and Ainsdale Golf Club, West Lancashire Golf Club, Formby Hall Golf Resort and Spa, Formby Golf Club, Formby Ladies Golf Club, Hesketh Golf Club, Southport Old Links Golf Club and St. Annes Old Links
Client Testimonials
On behalf of the Rolls-Royce PTF Golf Society, I just wanted to say another big thank you to you for arranging everything for our weekend in Liverpool and looking after us so well while we were there.

In particular you did us proud by saving the day on the Sunday by re-arranging to Haydock Park at such short notice as the course and the greens were in wonderful condition considering the heavy rain around the area the day/night before and it made for a successful end to the weekend for the 27 x golfers who turned out.

Everyone's had such a brilliant time and we couldn't have wished for better food and value for money anywhere. So thanks again for everything and let's keep in touch as I'm sure a future Captain will want to return to Liverpool sometime in the years to come.

Nathan Richards

― Rolls-Royce PTF Golf Society

Stewart and Liverpool Golf have been brilliant. We had to change the event twice due to CV19 and Stewart and his team made everything painless and easy.

Their communication was great and they gave me really good and honest advice on the courses and their facilities.

I would strongly recommend Stewart and his team to anyone looking for a Golf Break in the Merseyside area.

Richard Murphy

― Visiting Golf Group from Leeds, September 2020

Having organised a long weekend golf trip for my fellow golfers through Golf Liverpool, I can only thank Stewart and his staff for their great organisation and help to sort out a smooth weekend.

I would also like to say that the Hard Days Night Hotel which Stewart chose, was fantastic and the location brilliant.

We will certainly recommend Stewart's Company to others and will use them again when we travel to the North West.

Ged Cooper

― Visiting Golf Group from Southampton, September 2020

We (a group of 10) spent three wonderful days on the Wirral, playing Royal Liverpool (Hoylake), Caldy and West Lancs and stayed at the Hard Days Night Hotel in Liverpool City Centre. Stewart and the team at Golf Liverpool looked after us from start to finish.

As the organiser, communication in the lead up is so important and Stewart was always available to answer questions and sort logistics including transport, dinner recommendations etc. for us. They could not have been more accommodating given we had some late changes to personnel, needed to ensure everything was Covid-Safe, people wanting to chop and change days etc. etc.

The Golf Liverpool team checked in with us every day on tour and even came along one evening for a courtesy pre-dinner drink. The whole trip ran smoothly from start to finish (and I've been on a few that haven't!) and I would have no hesitation in using Golf Liverpool for any future tours and would be happy to recommend them to anyone. Everyone on our group was glowing in their praise of the golf and the trip more generally. Thanks Stewart and team!

Dominic Smyth

― Visiting Golf Group from London, September 2020

Just to say once again how much we all enjoyed this week's trip to your lovely part of the world. All three golf venues were ideal - West Lancs was rather special of course - and the accommodation at Brook House was quite superb. Perfect for a group of our size.

Thanks for your excellent organisation and personal involvement throughout. It was a pleasure to meet you at Formby Hall and a comfort to know that you were accessible in case of need.

All the very best with everything and hopefully our paths will cross again somewhere close to a golf course.

Tim Procter

― Visiting Golf Group, May 2021

WOW! What a weekend! I would like to say a huge thank you to Stewart and his team for arranging a very fun and enjoyable weekend away golfing. I would highly recommend this service to anyone looking at booking a golf trip in Liverpool or Southport.

We played 3 beautiful courses where we were made very welcome at each club. The hotel was absolutely superb and in a fantastic location within walking distance from all pubs, clubs and restaurants. Stewart and Jay kindly came to visit all of us after our second game of golf to greet us all with gifts and to buy the whole group a drink each.

They certainly went the extra mile to make our trip extra special. A truly wonderful weekend enjoyed by all and we certainly will be booking again. Many Thanks Elliot

Elliot Ormondroyd

― Group from Yorkshire

Cannot thank Stewart and his team for all their hard work on our recent trip to Merseyside, which included golf at Leasowe, Wallasey and Hoylake.

Everything worked very well, good tee times and great service at Leasowe Castle Hotel.

I would recommend Golf Liverpool highly, and our little society will be using them again next time we are in the Northwest of England.

Nigel

― Visiting Golf Group of 7

We are group of eight Austrian golf players and in 2020 we wanted to go to Southport in England to play the beautiful and famous golf-courses of Royal Birkdale, Hillside and S&A. We got help from Stewart Jamieson from Liverpool Golf.

Due to the Corona-pandemic we could not travel to England for two years. This year however, in May 2022 our dream came true. So we want to thank Stewart and his team for supporting us all the time and especially for holding the price of the offer from 2019 over all the years. We really enjoyed our journey very, very much.

Everything worked perfect. The hotel, the courses (at least we played Royal Birkdale, Hillside and Hesketh), the shuttles, etc. were amazing and we had a really beautiful time. Thanks to all, greetings from Austria.

Martin

― Visiting Golf Group from Austria, May 2022

On behalf of the Rolls-Royce PTF Golf Society I just wanted to say another massive thank you for arranging everything for our weekend in Liverpool and the hospitality you showed us throughout our visit.

The 30 x Golfers on the trip had such a brilliant time on what was yet another memorable weekend both on and off the course in Merseyside. Both Prenton and Allerton Manor were perfect courses for a large group like ours and it was great to finally play West Derby which was the pick of the bunch.

In addition we couldn't have wished for better food and all in all value for money again and the lads in the group who didn't come on our previous visit in 2019 were amazed what you had set up for us.

So thanks again for everything my friend and will continue to keep in touch as I'm sure another PTF Captain will want to return to Liverpool again in a couple of years time and hoping we can book through you visit to Merseyside in a 3 year cycle (leave that with me ;).

Nathan

― Rolls-Royce PTF Golf Society - Group of 30